After a long two-year wait, Canada Soccer has finally unveiled the new home and away kits for the women's national team – ahead of the 2023 FIFA Women's World Cup.
The home kit is comprised of a red and black design, adorned with a maple leaf pattern and interlocking geometric shapes. Meanwhile, the away kit adopts a much more minimalistic approach, comprised of a standard white kit with a series of red stripes around the neckline and shoulders – mirroring the colour scheme of the badge.
"The world's biggest stage calls for revolutionary innovation. And that's why we are debuting the next generation of Dri-FIT ADV on the world's best footballers. Introducing the 2023 NikeNational Team Kits", Nike announced on Twitter.
The kit is primarily focused on the women's team, with a new men's national team kit to be announced at a later date – the design of which could be either a similar adaptation to that of their female counterparts or an entirely different iteration of the design.
The highly anticipated release of the official kit was met with a mixed response from the general public. According to Joshua Kloke – a prominent Canadian sports journalist and author – "the home shirt is not all that different from their 2020 kit" adding that "from a creative perspective, Canada Soccer's deal with Nike continues to yield disappointing results."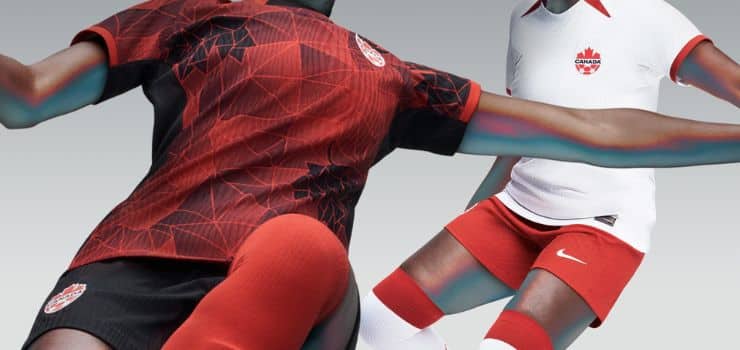 As of January 2019, Nike replaced sportswear rival Umbro as Canada Soccer's official footwear, apparel, and equipment supplier for the men's and women's national teams. While the length of the agreement has not been disclosed, Nike is anticipating considerable exposure from the men's national team, especially ahead of the 2026 FIFA World Cup – which will be hosted by Canada, Mexico, and the United States.
Canada's first new design for either of its senior national teams since June 2021, as Canada was one of the few teams to not receive a fresh set of uniforms for the 2022 FIFA World Cup.
The process of designing and creating a brand-new kit can take Nike approximately 18 months – as the governing body for Canada Soccer and Nike did not start planning for the national team to qualify for the World Cup for the first time since 1986, which resulted in a significant delay in the launch of new kits.
"The 2022 Canada kit will be the same the team has worn throughout the past year, as Canada Soccer is on a different kit development cycle", according to an official press release from Nike.
The women's team is expected to debut the new kit on April 11th, when they face France for a friendly match in Le Mans. Many sportsbooks in Canada are offering promotions for the upcoming fixture.
The men's team is scheduled to play on June 15th in a CONCACAF Nations League Semifinal in Las Vegas – which could be an opportunity to debut the new kit.
Was this article helpful?